Self Care Sunday: It's Been Two Months!
Self Care Sunday: It's Been Two Months!
Two months! Already!
Well it was two months yesterday, but I thought it would be nicer to celebrate it on a Sunday when I am actually having my day off work.
So… how has our two months been?
This blog now has over 100 followers!! This blog is a journey, and I am glad I have awesome people accompanying me along the way. Thank you so so much for sharing this journey with me.
We also have over 250 likes!! I am so happy that you liked what I posted here, and I want to thank you guys for liking them. I really hope that this blog has been in one way or another helpful for you, either informative or simply entertaining.
Now… what has changed over last month?
The first thing that changed last month was the weigh in day. Swapping it to Sunday was probably the best idea of last month. Having Sunday as a self care Sunday was also last month's great change, which I really really enjoy.
I actually finished a couple of courses related to food, nutrition, and healthy living with Open Learn. Open Learn is a free course program supported by Open University. Say it is kind of gateway to online studying. Writing this blog, and actually researching about what I am writing reminded me of my uni days, and I kind of like it.
Since I am also talking about the scientific bit (although very superficially) here, I thought it would be a good thing if I get a better knowledge sources too. I mean… If I would like to share my opinion about this healthy lifestyle with you, I prefer having a good and solid base for that. Taking those courses were very insightful, and I am now in the middle of another course.
I admitted that I haven't been around as much, or as intensely as last month, and I agree that having a new PC game might be one of the causes. The other of course was that I felt tired a lot.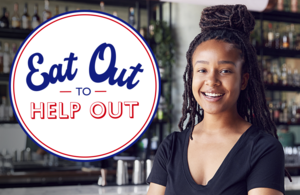 The 'Eat Out to Help Out' scheme which has helped the restaurants with the boost they need was really exhausting for every one of us working in the industry. Not that I am not feeling grateful that we are still doing some business, but really having our weekdays like weekends was draining for some of us.
Including me.
One of the reasons I am taking a part time job is because I want to have enough time to take care of myself. I felt I had neglected myself and my family too much and that has taken the toll on both our relationship and our mental well being.
COVID lockdown actually have given us the time to think and readjust, and finally given us the push to make a decision. Now both of us are on a good place, and we are both also working on our physical and mental health, as well as our financial situation.
Last month was a challenge, but we went through it alright… except for that one week….
I know I have been a bit over the top with my self spoiling Sunday last couple of weeks, but I think I needed it. I tried to do better this week, and here's our weigh-in weekend result
| | | | | |
| --- | --- | --- | --- | --- |
| | this week | last week | this week loss | total loss |
| weight (kg) | 57.9 | 58.2 | 0.3 | 4.2 |
| waist (cm) | 68 | 69.5 | 1.5 | 5 |
| hip (cm) | 96 | 97 | 1 | 3 |
Another 300 grams loss. I took it last week, I am happily taking it again this week. Especially seeing my waistline coming down like that… I am very very happy. I can feel my work clothes are hanging more comfortably, and my bra straps are no longer digging as much. My jeans are now more roomy, and even my butts don't feel as bouncy.
I cannot yet feel my ribs, but I am not sure if I want to feel it. 68cm waist was the same measurement I had on my lowest weight in 2016. Does it mean I have roughly the same amount of visceral fat now as I did when I was 49kg? It's amazing what we can learn only from seeing numbers like that.
Anyway… it's a good two months celebration. I cannot wait to see what 3 month would bring me.
Before I leave, I would like to once again thank everybody who are reading this, and sharing this journey with me. I will see you again soon…
Stay happy,
Mel xx