How Did Nigella Do It?
How Did Nigella Do It?
Celebrity weight loss is always interesting, isn't it? One day they appeared on the telly box all curvy, and swoosh… next time you saw them for the Christmas Special, they have shrunk like magic. But… no celebrities are more interesting to me than celebrity chefs…
How the hell they lose weight while being constantly surrounded by tasty food is always boggle me.
One lady in particular, the sexy chef, who without fails seduces me with late night supper… Nigella Lawson.
She lost two stones over two year. A very sensible and incredibly achievable goal. And… my goodness me, look how healthy she looks like in size 12!!
I always love Nigella. I think her program is far from pretentious. It's always looked homey, and… you know very seductive. I like the fact that she loves to focus on how eating should be an experience of pleasure instead of punishment.
"I wouldn't want a life where I lived on chia seed pudding, just as I wouldn't want to live where I lived on eggs Benedict or steak and chips."

Nigella Lawson
She's also been famously oppose to 'clean eating' trend. She refused to use the terminology 'clean eating' because she believed that it implied that it's been used to mask the underlying unhealthy relationship with food, and your own body. She believes that people who follow this 'clean eating' trend wants to feel better about themselves because they are now 'cleaner'. Or something like that.
She's also openly oppose to ANY kind of fad diets. She's famously said "FAT is not a dirty word", referring the low fat diet which was trendy not so long time ago.
"Why not just eat less of something, rather than having a low-fat version?"

Nigella Lawson
If I can look half as good as her when I am at her age, eating what she's eating… I'd be the luckiest girl.
So is there any secret? Intense exercise perhaps?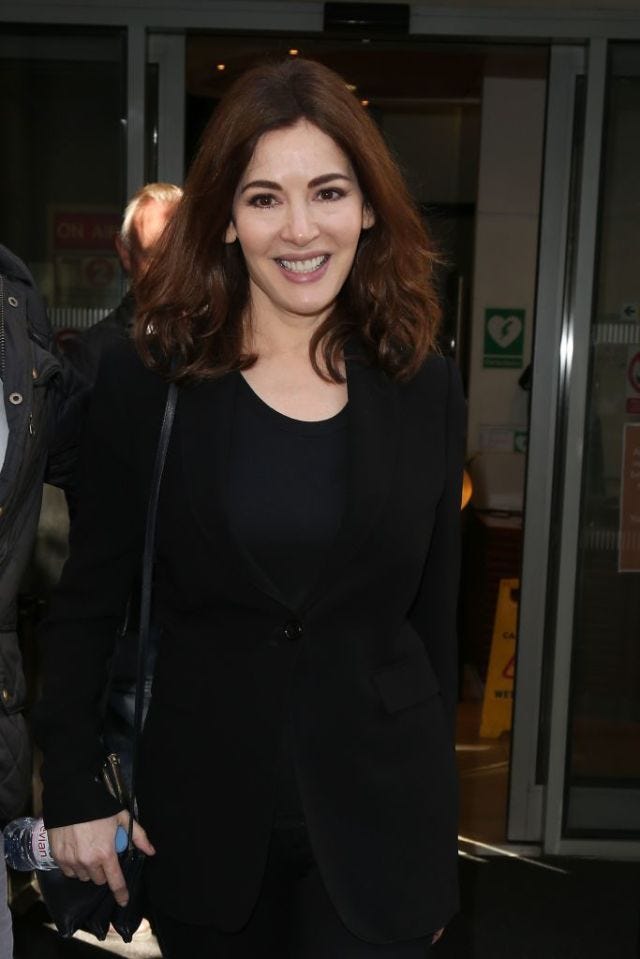 Our Nigella is not keeping any secret. She admitted that she does not like exercise, so all she does is low impact yoga 3 times a week for exercise.
Food wise, she's done portion control… which is very sensible. And she never denies her cravings, because she knows denying cravings now only lead to binging it later. Girls… we know that ALL too well.
She did make some swaps like using whole grain (which I have to say taste nicer anyway). She started to introduce more kalo and avocado in her food repertoire because she likes the taste of them, not just because she thinks it's healthy.
I think Nigella's weight loss is definitely doable… Don't you think?